Last season the Skycity Breakers had a hard time of it, with plenty of injury troubles that saw them struggle at times. Despite winning their last two games of the regular season, they fell short of a playoff spot, with their 14–14 record earning them fifth place on the ladder.
The 2017/18 season has just started and all of us at Colourbox will continue to track their fortunes closely. Why? Because we, and our sister companies, help the Breakers to manage their professional 'game day' look. The Breakers play at two different venues, Spark Arena and North Shore Events Centre. Our job is to make it feel the same for the fans regardless of the venue. We create all their portable display materials, which get taken from one venue to the other.
We go back quite a way with The Breakers, watching them and supporting them through both the good times and the bad. The SKYCITY Breakers management team approached us in 2008 and challenged us to create a more professional 'game day' look that could be utilised at both their venues, and would provide better exposure for both the club and its sponsors.
We needed to create a portable 'Home' for the Breakers, so that both fans and the team felt at home wherever the venue for match day.
Using our fabric print expertise, we have provided The Breakers with multiple branded touch points,
as well as enabling sponsors better commercial opportunities. We've helped to ensure significant Breakers branding at every venue, to ensure media coverage and fan recognition.
Courtside Branding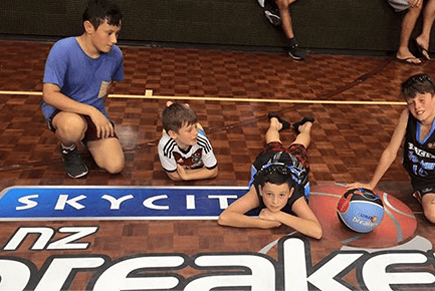 Removable Floor Decals

Using our technical expertise and years of experience, we were able to find and print a material that would be removable whilst also providing the right amount of surface slip for players. As well as needing to be highly durable it also needed to feature minimum glare/reflection for the TV cameras.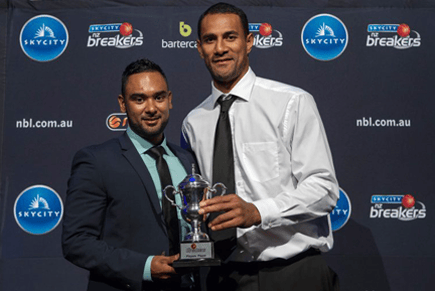 Sponsorship Wall

A sponsorship wall runs the length of the court and carries signage for each major sponsor. This uses our Finesse Frame and Fabric system, so we can easily replace sponsors details without replacing the framing. These signs can take a bit of a hammering but ours is still going strong after 6 years!
EndZone Signage

These mostly carry Breakers branding, but can be sold to sponsors and changed quickly and cost effectively. All our fabric solutions can be washed after each game, so they always look brand new!
Off Court
Player Banners

Each player has a profile banner located at the entrance to each venue and placed there on game day. They get a lot of use, so need to be easy to assemble, quick to store and highly durable.
Lobby Signs

These are used to display key information like court layouts, timetables etc. 
Flags

We use promotional branded flags to welcome supporters to the venue, and also to create a players' tunnel, courtside.
Corporate Sponsorship & Hospitality
Crowd Barriers

We created subtle crowd barriers using Finesse framing and branded fabric that section of the corporate areas.
High hopes for the season ahead
We absolutely love working with the Breakers every year and wish the team every success this season. Early signs are good. Despite losing their very first game, they flexed their NBL muscles just 3 days ago, and this time did so for long enough to get their first win of the season, defeating the Sydney Kings 87-85 at Spark Arena on the back of a vintage performance from Kirk Penney and an improved all round effort.
Need help with Sponsorship?
We have helped the Breakers and their sponsors to gain greater media attention through display and engagement. We would love to share our knowledge and experience with others. If you would like to discover more, and work with a winning team, then please us a call on 09 415 5625